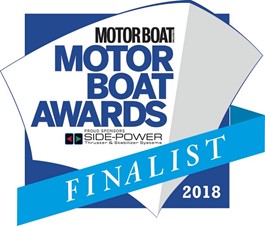 27 Solano
We are proud to announce that yet again one of Windy's boats are nominated for a prize. Our brand new model 27 Solano is one of the finalists in Motor Boat & Yachting 2018 Motor Boat Awards. With classic retro styling and the unbeatable performance and handling for which Windy is renowned, the 27 Solano is a new success. 
---
WINDY at Cannes Yachting Festival, the biggest in-water boat show in Europe.
True to its reputation as Europe's leading in-water boat show, the Cannes Yachting Festival hosted, on its 40th anniversary, nearly 600 boats in the two ports of Cannes: the Vieux Port and Port Pierre Canto.
WINDY can report back from an excellent boat show in Cannes with great interest from clients. Especially the brand new WINDY family member 27 Solano attracted much attention and was very well received among our visitors.
---
WINDY 27 SOLANO IS NOMINATED
FOR THE EUROPEAN POWERBOAT OF THE YEAR AWARD 2018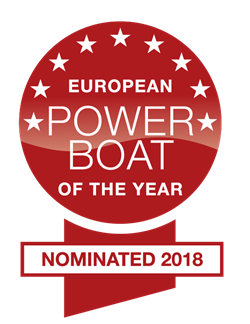 Since her release in early September 2017 the WINDY 27 Solano has been acclaimed by boat journalists and boat enthusiast all around Europe for her unique characteristics and now she has received her first, well deserved, award nomination.
In typical Windy tradition the Solano has a safe and spacious cockpit, luxurious cabin and an advanced deep-V hull designed by Hans Jørgen Johnsen which delivers superlative performance, matchless seakeeping, and a top speed well over 40 knots.
---
WINDY 27 Solano - first pictures on water
World premiere at Båter i Sjøen in early September!
We are very proud to release information about our latest WINDY family member, the WINDY 27 SOLANO.
The Solano is a south to south-easterly wind in the southern sector of Spain. In the spring and summer, from June to September, it carries hot, dry weather over La Mancha and the Andalusian plain with the cities of Sevilla and Cádiz.

Solano being the smaller sister from the ground-breaking, award-winning Windy 31 Zonda, which took the boating press by storm.

A comfortable and exclusive and sportscruiser which combines the everlasting classic Windy look and recognized exhilarating handling, yet with impeccable comforts synonymous with all Windy boats.
The 27 Solano can be powered by diesel or petrol single stern drive installations. She will be capable of sustained high-speed cruising and guaranteed to impress with superb handling and control, abilities recognized by all Hans Jørgen Johnsen designed hulls.

The quality in the construction and fittings are the usual Windy unrivaled quality, second to none, conceived and constructed for those who demand the very best.

Design and Naval Architecture: Hans Jørgen Johnsen, Staubø, Norway

Engineering: WINDY Design & Engineering Dept., Västervik, Sweden

WINDY 27 SOLANO  | Download brochure  | View on Issuu
---
WINDY appoints new distributor for
Croatia and Slovenia
WINDY are very proud to announce their cooperation with Adria Luxury Boats d.o.o. for the Croatian and Slovenian market.

Adria Luxury Boats d.o.o. is a professional yacht dealer situated in ACI Marina Ičići, near Opatija, Croatia.
The company offers both sales and full yacht management (everything from yacht purchase to servicing and repairs).
Adria Luxury Boats d.o.o. also provide luxury boat chartering in the Croatian and Slovenian archipelago considered by many to be one of the most beautiful in all of Europe.

WINDY wishes Adria Luxury Boats d.o.o. the best of luck and a very welcome onboard.
---
WINDY appoints new distributor for Italy
WINDY are proud to announce their cooperation with PHI YACHTS for the Italian market.
Phi Yachts is a maritime brokerage and consultancy company founded by highly experienced professionals with a long history in the market.
Specialized on sales and management of yachts and super yachts from the world most renowned shipyards, Phi is a guarantee of maximum care and reliability for the customer, covering both the commercial aspects of the deal and the service/management operations related to the purchase of a yacht.
With a staff of skilled professionals operating in the offices in Forte dei Marmi, Porto Rotondo and Istanbul, Phi offers the prospect Owners the maximum expertise and a steady presence in every market and area of interest.
WINDY wishes PHI YACHTS the best of luck and a very welcome onboard.
---
SR 44 Blackhawk
Next generation SR now being developed for launch early 2018.
In the wake of the successful WINDY SR 52 Blackbird, the new WINDY SR 43 Blackhawk will include the main characteristics of her larger sister. Unparalleled performance, build quality, range, and options will be offered with a Customization Program for individual taste.
The SR 43 Blackhawk offers nice accommodation for Captain and Crew or the couple who wants overnight stays during extended weekends.
With experiences gained on the SR 52 Blackbird we are lifting the SR 43 Blackhawk to another luxury level; whether for use as a superyacht tender or chase boat or a sportsboat for family and friends.
Long range and "off shore version" will be offered in due course.
---
DOWNLOADS
Windy Boat Models (Brochures)
Catalogues
Boat Show Calendar 2017
| | | |
| --- | --- | --- |
| JANUARY | 21 - 29 | Boot 2017 Düsselforf, Germany |
| FEBRUARY | 04 - 12 | Båtmässan. Gothenburg, Sweden |
| MARCH | 04 - 12 | Allt för sjön. Stockholm, Sweden |
|   | 22 - 26 | Sjøen for alle. Oslo, Norway |
| SEPTEMBER | 07 - 10 | Båter i Sjøen, Oslo |
|   | 12 - 17 | Festival de la Plaisance de Cannes, France |
|   | 15 - 24 | PSP Southampton Boat Show, England |
|   | 23 - 01 Oct | Interboot. Friedrichshafen, Germany |
|   | 27 - 30 | Monaco Yacht Show, Monaco |
| OCTOBER | 11 - 15 | Barcelona International Boat Show, Spain |
| DECEMBER | 02 - 10 | Salon Nautique International de Paris, France |